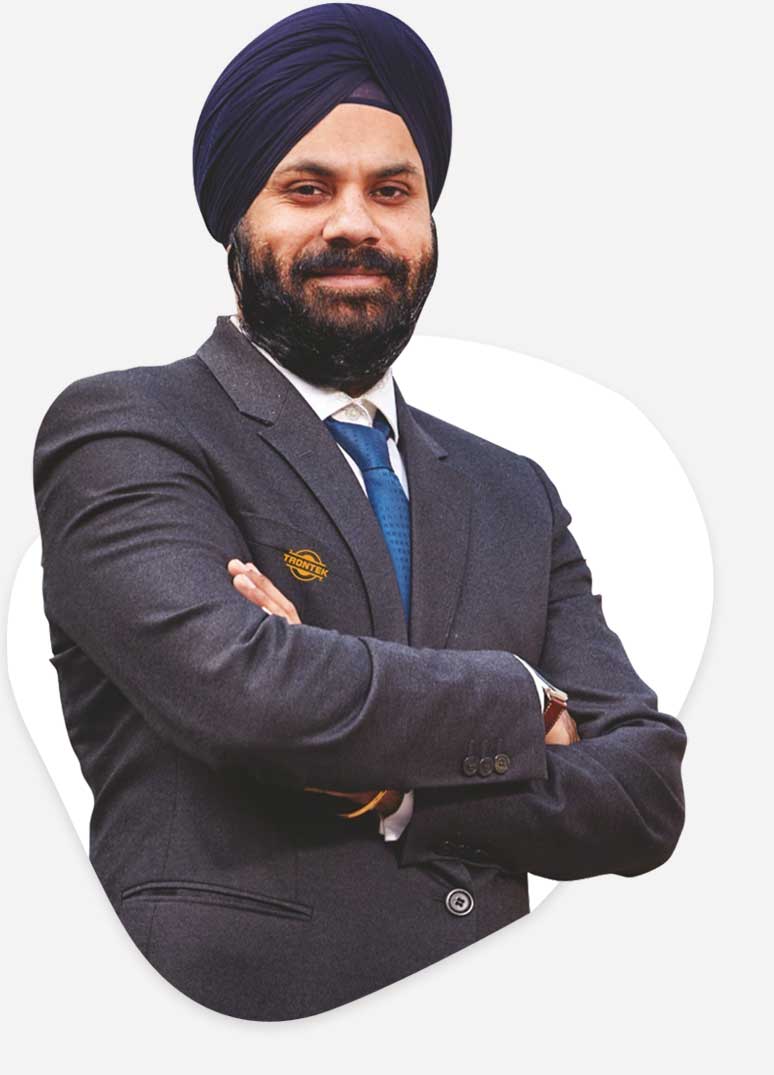 Managing Director
Trontek Electronics Pvt. Ltd.
"We are emerging as a game changer in empowering a sustainable future with the highest performance and safest batteries for electric vehicles, homes, and critical applications".
Trontek products, systems and services are meeting the needs of customers and society in industrial, as well as the consumer infrastructure markets. With the evolving needs, we are currently expanding our battery devices business beyond the borders, with the goal of creating new businesses and a strong chain of satisfied clients in the power industry.
In the automotive battery segment, we supply lithium-ion batteries with a proven track record for a wide range of vehicle models for plug-in hybrid vehicles and electric vehicles. For industrial applications, we continue to build on the reputation of our EV charging stations, points and chargers and finally a high-yielding battery systems that integrate solar cells.
Today, Trontek is armed with forward-looking, superior technologies and a dedicated workforce. We are committed to rapid growth in the global marketplace and consistent profitability in these increasingly competitive fields, at home and in the world.
Samrath kocchar
Managing Director
Trontek Electronics Pvt. Ltd
Today, Trontek operates on a principle of 'Build the product around the Consumers'.
This has been the main reason for its success in the industry.
From a humble beginning to a robust global presence
Established in 2014 as a small trading company, Trontek today is one of the fastest growing battery companies in the country. The company started trading in electronic components for TV, Radios, Chargers and other electronic gadgets. In 2007, Trontek started selling batteries for UPS. In 2008, the company started importing batteries for UPS Motorcycles and selling under its brand name, TRONTEK. At present, Trontek is catering to the USA and some parts of European markets.
The beginning of an evolution
In December 2012, as e-Rickshaws entered the Indian market, Trontek launched batteries for e-Rickshaws to serve the emerging market. Today, Trontek operates on the principle of 'Build the product around the lives of people'. This has been the main reason for its success in the industry. Trontek's e-Rickshaw Batteries were developed specifically for the driver to deliver maximum mileage per charge, and great value for money. More than one lakh e-Rickshaws are powered by Trontek batteries and continues to gain huge market share in the country and offer excellent After Sales Support all over the country.
Lithium-ion Power Rangers
The LIEV (Lithium-ion for Electric vehicle) series batteries were specially launched in January 2017 to serve E bike, E Tricycle and Electric Car segments as well as supplying to major OEMs in the Indian market.
The cradle of power
Trontek has a SMF UPS and Motorcycle battery manufacturing facility in Rajasthan Li-lon Battery Assembly unit in Delhi, and an R&D and Design Center in Bangalore, India.
Vision
To be a trustworthy brand that provides reliable products and contributes to the world's sustainable energy movement
Mission
To inspire a generation of conscious consumers to choose clean & renewable sources of energy
Eco Friendly
We choose to go the green way.
As a responsible alternative energy solution provider, we make eco friendly batteries that do not release harmful emissions. Now take a step towards the sustainable future with our battery solutions. Be it homes, commercial areas, vehicles, or equipment we bring power to charge them up the greener way.
We believe in going the green way to energize the future
Lithium-ion Battery - Powering excellence
Maintenance-free operation
Built to last
Lightning-fast charge
Safety at its finest
Pro-environment